Termite Treatments
If you think you may have Termites do not disturb the infestation. Termites can cause extreme damage to your home, but at the same time can be very timid if they are disturbed.
Leave them alone and tape up any damaged timber, then call Wayne at Palace Pest Control on 0412 671 296.
Upon arrival, your Palace Pest Control Timber Pest Technician will assess the property and identify the variety of Termite. 
From here, we will provide you with a free quotation and advice.
Once the quotation is accepted, he will then need to inspect the house and surrounding areas and treat the active Termites, then book in the chemical barrier in approximately fourteen days. If your house is a brick veneer on a concrete slab, the Treatment will require digging trenches in soil areas and drilling small holes in concrete areas around the perimeter of the house.
These areas are then injected with a chemical to protect your house for the next 5 to 8 years. The trenches are back filled and treated again, the holes are injected and resealed with very little evidence of us being there. If your house is a low or high set on stumps, the Termite Treatment may require treating some areas of concrete if there is a slab, and treating the soil at the base of the stumps.
If Termites are found in your house a Non Repellent Chemical will be used to protect your house, and at the same time prevent any Termites being trapped inside the walls.
Non Repellent Chemicals have the ability to be carried back to the nest by the Termites.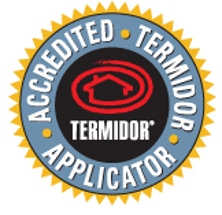 When a Non Repellent Chemical is required we use, and recommend Termidor.
Termidor not only protects your property but also has the ability to be transported back to the nest by the Termites that have come into contact with the Chemically treated soil.Termites that have come into contact with the treated soil Barrier can then pass on theTermidor to others that have not entered the treated zone.
Lasting between 5 to 8 years depending on soil types and environmental conditions. Termidor has helped me achieve fantastic results under extreme conditions and in all types of soils.
Biflex Ultra is the chemical used if you require a Repellent Barrier. Biflex has been in-use since 1996 giving good results with long residual properties.

If you have concerns about the Environment or have Allergies brought on by Chemicals a new product by DuPont called Altriset is now available.
Altriset is the first and only Termicide to be classed as an unscheduled poison. No protective clothing is required when mixing and applying it. This great Safety profile not only applies to people. Altriset has a very low toxicity to pets, birds, fish, earthworms and even honeybees.
Within hours after coming in contact with Altriset, Termites ingest it and carry it on their bodies they cannot taste or smell it works on their muscles, their mouths become paralysed so Termites stop feeding on your home.
Within days there is increased grooming and interaction with other Termites spreading the Altriset through the colony, it is taken back to the nest and in less than 3 months the Termites are eliminated.
If your house is free of Termites a repellent chemical may be used as a preventative Barrier Treatment.
A repellent chemical can be detected by the Termites and will keep them away from your house, but cannot be carried back to the nest.
If your home has not been treated in the last five years, you are at risk of Termites entering your home.
We do not use generic chemicals when installing Termite Chemical Barriers to your home.