Termite Treatments
Initial Treatment | Termite Treatment Plans | Termite Prevention
If you think you may have Termites do not disturb the infestation.
Termites can cause extreme damage, however are very timid if they are disturbed.
Please leave them alone and tape up any damaged timber.

Then call Palace Pest Control on 0412 671 296 to arrange an appointment.
For the full and effective eradication of termites and the long-term protection of your property, termite treatments are best delivered in three very importance stages. Firstly, the initial termite treatment, secondly, the installation of a proven chemical barrier and finally, regular pest and termite inspections to ensure your property remains termite free.
The Initial Termite Treatment
Upon arrival, your Palace Pest Control Timber Pest Technician will carry out an assessment to identify the species of termite involved. From here a free quotation and advice is provided.
Upon acceptance, we will then need to fully inspect your property including the surround yard, fences and structures. Active termites are then treated with a non repellent chemical. Non repellent termite treatments have the ability to stick to or be carried by active termites. This allows for a more a thorough and effective infiltration of the nest. Once the initial termite threat is resolved, any damage can be repaired and a longer-term termite barrier installed.
The Termite Barrier
In 14 days, a chemical termite barrier is to be installed to ensure the fullest protection of your property moving forward.
For brick veneer homes on a concrete slab, termite barrier treatment require the digging of trenches in soil areas, and the drilling small holes in concrete areas, around the perimeter of your property.
These trenched or drilled out areas are then injected with one of our preferred termite barrier chemicals to protect your house. The trenches are back filled and treated again, and holes are injected and sealed with very little evidence of us being there. For low or high set homes set on stumps, the termite treatment will vary, requiring the treatment of some areas any concrete as well as treating the soil at the base of the stumps.
The right Termite Barrier Can Offer 5 to 8 Years Property Protection
Termite Inspections
Regular termite inspections offer additional confidence that your termite barrier is still effective and are recommended at least annually. Severe weather events as well as significant landscaping, drainage work or renovations, not done correctly, can be enough to compromise a once effective termite barrier. Even the addition of a patio, new air conditioner plumbing or water tank installation can pose potential issues. Click here for more information about our Termite Inspections service.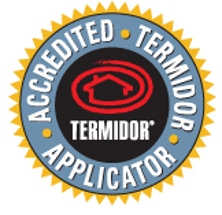 When a Non Repellent Termite Chemical is required we use, and recommend Termidor.
Termidor not only effectively provides a barrier and protects your property, it also has the ability of being transported back to the nest by the Termites that have come into contact with the Chemically treated soil.Termites that have come into contact with the treated soil Barrier can then pass on the Termidor to others that have not entered the treated zone.
Lasting between 5 to 8 years depending on soil types and environmental conditions. Termidor has helped me achieve fantastic results under extreme conditions and in all types of soils.
Biflex Ultra-Lo-Odour offers, not only as the name suggests, low odour omission, it's also proven as an effective chemical termite barrier repellent.
In use since 1996, Biflex continues to deliver long residual properties and its dual action kills and repels subterranean termites making it ideal for pre-construction and post-construction termite control and protection. 
TERMITE & PEST CONTROL
Termite Control & Pest Control Caboolture
Termite Control & Pest Control North Brisbane